Are you ready to delve into the digital age with adding eBooks to your collection? Have you already purchased some eBooks only to find no one checked them out? Are your students still stuck in the stacks while you are stumped with strategies on how to manage the digital transition? These are all scenarios that I have pondered over the past few years.

Here are a few components that helped introduce eBooks into our school library program.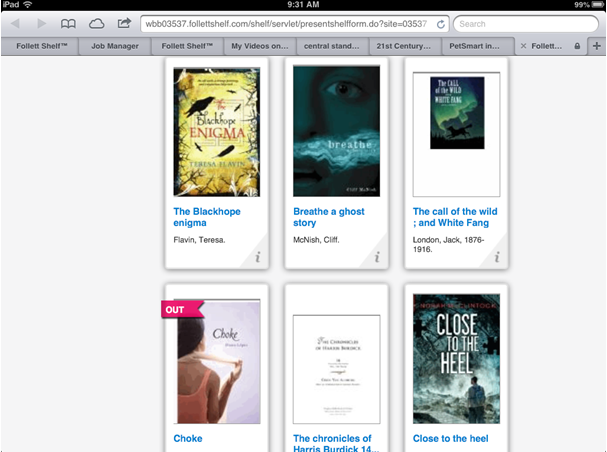 Set goals - Take some time to analyze your collection, circulation statistics, and set short term goals. Stating that you want students and faculty to checkout eBooks is too vague. I started with setting a goal of 100 patrons accessing eBooks by the end of the school year. Statistics showed only 2 eBooks were checked out in the prior school year so this was a tangible goal as far as I was concerned. I am more relaxed and stress-free when I set goals that I feel I may accomplish.

Demonstrate- This might sound like common sense but take quality time to show your students and faculty how to access your eBook collection and sure you fully understand the process. I actually began with my faculty and was amazed they were immediately interested.

Come up with a gimmick or hook- As with any lesson, program, or presentation you need to grab their interest from the beginning. I didn't plan that my gimmick was BYOD (Bring Your Own Device Day) but it just fell into place. I've also used the term Device Petting Zoo since every imaginable device came in on Device Days. It was awesome to watch student on student teaching and learning with the menagerie of devices.

Empower your students with the teaching process- I had great student aides and volunteers but no adult assistant. With 1 librarian and 670 students I have become quite creative in using others to help manage the library program. I coined the phrase "eBook Expert" and when an eBook question was asked I called for an "expert". In the beginning my student aides would step up to assistant but by the end of the school year students that I barely knew were volunteering their time and knowledge in accessing our eBook collection. I need to take note that many students want to help so I need to encourage a process with more student drive assistance.

Promotion- As with any program, your successes need to be promoted and advertised. The more enthusiastic you become in letting everyone know your statistical accomplishments; the more contagious this phenomenon will spread. I probably went overboard since I became ecstatic when my eBook goals were met in December before the Christmas holiday began. As our vacation continued, I watched the eBook reports and sent text messages to my principal with news of eBook usage over the holidays. I also posted on our school Facebook and Twitter feeds with the exciting news. As the eBooks circulation reports climbed I included this data in faculty emails, the school news, the library online newsletter, in leadership, faculty, and district library meetings, wrote blog articles, brought in donuts for faculty celebrating mini accomplishments, and virtually told everyone whom I came in contact with during our  2nd semester.

Inclusion- As I watched my school embrace our library eBooks I also noticed peaks and valleys in the circulation reports. The students and faculty checked out our digital eBooks as long as I promoted the collection. Thus I referenced our eBooks when book-talking, included a quick title eBook list for my patrons, put stickers on books indicating it was also available in eBook format, provided demonstration screencast videos for the school news, and included promotion of eBooks in every facet of programming.

Reflection- Analyzing and reflecting on the eBook data is very important. The library had 106 eBooks when I began this endeavor in early December and I quickly realized I needed more eBooks added to our collection. I delved into Titlewave looking for high interest titles and added roughly 300 more eBooks by early February. I must add the process of ordering and receiving eBooks was a pleasant surprise. I ordered online on Tuesday and was thrilled to see on the following Saturday the books seamlessly appeared on our FollettShelf. That in turn created more text messages, Facebook and Twitter posts, and emails over the weekend.

I am proud to announce that our students and faculty have enthusiastically continued to checkout and access our eBook collection. We have surpassed 1,200 eBook transactions since the beginning of this campaign. I have added audio eBooks to our collection and have embedded our eBook collection use in a summer reading campaign. Factors that may have contributed to our success may include our district providing 1:1 device, students having access to many types of devices, the school's policy for allowing student devices, and the library's device friendly environment.
Sue Fitzgerald began her educational career as a classroom teacher in 1980 in the Houston Independent School District.  After nine awesome years as a classroom teacher she became a secondary school librarian in 1989 and haven't looked back.  
Sue has had the honor to facilitate libraries in Houston, Spartanburg, South Carolina, Dallas, Fort Worth, and now Justin, Texas. 
I love to blend my knowledge and enthusiasm into the changing world of libraries.