Hello Friends!

I hope you have enjoyed the blog post Repurpose and Regroup Your Furniture.  If you do not have the money to buy furniture, sell bottled water.  This works! Buy a case of water for $3.00 or $4.00 then sell each bottle for one dollar!  After one year you will have money $$$$ to spend.  :-)

Today we are going to talk about eBooks.  I believe eBooks are our future and a future that is here to stay.  When I visit our PreK classes these students are comfortable with any piece of technology we give them to learn on and they switch between devices seamlessly.  These students are collaboratively interacting with an electronic book at the age of four. Secondary librarians and teachers look out, these students are coming your way.

Just think, five years from now our middle schools will be filled with techno geeks. When they look for valid information, they will look for it electronically.  What does this mean to me the librarian?  This means I need to begin buying eBooks now to slowly build my collection.  Plan your budget by asking what does my collection have now and what should it look like in three years then in five years.

What I want you to do now is financially plan ahead.  Think of your budget and think of technology devices and wireless access.

I have been very successful in obtaining money for eBooks. I ask principals if they want their librarian to spend $40.00 dollars buying four print books or $40.00 for the same book with unlimited access. Unlimited access for all students on their campus and the eBook can be read on any device 24/7 from anywhere. Their face lights up!  They ask what type of device and I reply it no longer matters.  I just need a device and the Internet.  More and more eBooks can be read on anything.

I think we are lucky to have companies like Follett taking the lead in this industry yet working with schools and librarians to produce an excellent product. There are many companies offering eBooks, yet the key is having the MARC record in your library system so everyone can find your eBooks.  Keeping it simple for your students, staff and parents for them to conduct one search to find your books will be your biggest reward. Simplicity and a few clicks to access information keeps them coming back for more.

There are plenty of articles on eBooks and I have linked to a few below.  You will also find multiple blog posts and tweets on this topic as well.  On twitter use the  hashtag #ebooks and join the global conversation on eBooks.

Support curriculum by buying unlimited access eBooks instead of a class set.  Spend your money wisely and your administration will love you.

ARTICLE LINKS:

I hope you found this thought provoking or maybe it just has you thinking.  Talk to other librarians about eBooks or talk to me via the comment box below.  Ideas grow when we talk to others!

Keep in touch and until next time  ... have fun with this Learning Commons puzzle!
JoAnn is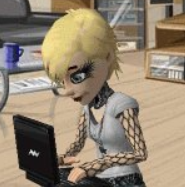 the Director of IRMS for Spring Branch ISD in Houston, Texas. She advocates for students, reading, technology and learning commons. You can contact her via email joann.conlon@springbranchisd.com or leave a comment below.