QR codes can be really useful for the library crowd. A QR Code (Quick Response Code) is a funny-looking little pixelated squares. You've most likely seen these in advertisements. These 2D designs contain in them all sorts of data. In advertising, a url is embedded in the design. Marketers can track who views their ads and fine tune their sales approach.

You should know I am not afraid of technology. Using applications, gadgets, and such makes me shiver with glee. I am, however, decidedly Old School in my approach. If students aren't using, creating, exploring, and thinking using techie tools, I'm not on board.

In my middle grades library, I use QRs to guide scavenger hunts, play my version of "Mission Impossible," embed author information and website, share my library website, and guide students to curated materials.

I'll explain these uses in my upcoming posts. Right now, I'd like to share a book trailer playlist accessible from all my bookshelves via QR code. These are publisher created book trailers and the great thing for concerned librarians is that I've tinkered with the embed code so that YouTube video suggestions are not visible.

To access this playlist, copy and paste this QR into a document that you can print. Want to change the size of the code? Click and drag any corner of the QR image to make it larger or smaller without distorting the image.
I print these to business cards and stick them to the top of my library bookcases.
Tips for QR use:
Download a QR scanner to your tablet(s). I use QR Barcode Scanner for Android and Scan for Apple
Scan a QR in front of students--every time--before sending them out to scan. (If you are able, project the scan so you can show students how to access the scanner app and line up the QR code)
Explain how to use any screen functions available, such as fast forward
Share one trailer with students. This will pique their interest!
BE READY to help students find books from this playlist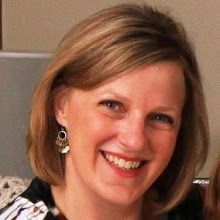 Stacey is the Liberty Library Lady, a librarian for middle grade students.  Her background is in history and philosophy. This Liberty Lady is complete when sharing a great book or idea with a young friend.  You can follow her on Twitter @JansenSae.