CCSS.ELA-Literacy.W.11-12.3d Use precise words and phrases, telling details, and sensory language to convey a vivid picture of the experiences, events, setting, and/or characters.
The school I work for has long excelled at teaching argumentative writing, with a school-wide rubric that fit with Common Core standards when they were released.  Of course, that's the thing about standards, when you do your job well, they really just rename what it is you are doing.  This year, though, I've been concerned with narrative writing.  Everyone teaches it, but everyone does it a little differently and by the time students come to me, they may or may not have been introduced to some of the basic tools required for good narrative writing. 

There's a great essay from Stephen King's book On Writing, "What Writing Is".  I start all of my classes with this essay.  I have found that of all the necessary elements of narrative writing, the one my students have struggled with the most is the use of sensory details.  To me, this essay drives home not only why sensory details are so important, but also the considerations a writer needs when they decide which details to include.  In the essay, King explores the idea of having a "far-seeing place," somewhere a reader or writer can go to "send or receive" messages to or from another reader or writer.  This is one of the first assignments I give my students, to write one page about their far-seeing places.  They are tasked with sending me to their places which they won't be able to accomplish without the use of sensory details. 

Last week, I gave this assignment to a small creative writing class.  Their places were full of trees and birds and flowers.  Because in my other life, I am a nature writer, I was overjoyed that these urban teens wanted to escape to more wild spaces, but as a teacher, I was concerned about their use of very general terms.  "Bird" is pretty empty, a crow carries a much different connotation than does a dove or a parrot.  The same problem exists for flowers: a hibiscus flower is tropical, a rose is cliché, and a sunflower is always happy.  And so we jumped into the need for precise and specific language.  This was difficult for my students, they know the names of few birds or trees or flowers.  They know the connotations of even fewer. 
Two students wanted to use blue jays in their spaces because they found pictures of them in an image search and found them lovely.  When they came to me with their desire to use blue jays in their writing I informed them of the connotation of these birds, "They are quite pretty, but do you know that jays are considered the bullies of the birds?"  Both students decided to start their searches again, jays were not appropriate for the peaceful places they were trying to create. 

For the rest of the semester, I will be able to recall this exercise as I push my students to tell their stories, whether in personal statements or in poetry.  Of course I hope that they will become stronger storytellers, but I also hope that they will develop keener observation skills and the desire to know their world and the names of those things contained therein.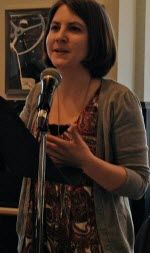 Elizabeth Joy Levinson runs a high school writing center and library on the west side of Chicago.  She has been teaching for more than ten years, with experience in museum education, private education, and in the classroom. She is also a writer with work appearing in several journals, including Grey Sparrow, Hobble Creek Review, Up the Staircase, and Apple Valley Review.