Yes, you read correctly, first through fifth grade students authored their own ebooks!  This past spring I collaborated with three different teachers to help students write their own ebooks.
Last February our staff returned energized from IntegratED, a technology conference held in Portland, Oregon.  Several of the workshops focused on the many uses of the iPad in classrooms and teachers returned eager to make use of the seven iPads we have available for student use.  However, during lunch discussions and other casual conversations, I discovered that despite the great tools and ideas teachers had learned at the conference, there was still apprehension.  How would they use seven iPads when they had twenty-eight to thirty students in their classrooms?  Could first graders really handle this tool without one-on-one supervision?  What would the rest of the class be doing when seven students were using the iPads?  How could the iPads be used for what they were already doing in their classrooms? 
This past year, my principal built some collaboration time into my schedule in hopes that it would allow me time to come alongside teachers in their classrooms and support, collaborate, or build on what they were teaching.  It had been a slow start, as teachers were not used to having this opportunity and were not sure how to utilize me given the limited time they have available to plan.
I decided to start with one teacher and see what would happen.  Mrs. Patterson had a first-second grade blend classroom  and when I spoke to her about using our set of seven iPads in her classroom she was interested but was not sure how to best utilize them with her students.  After a discussion about what she was currently teaching,
we came up with a plan.  Her students were about to begin research on an animal of their choice.  Once they finished their research they were going to write a report. 
I suggested they could create an ebook as their final product using an app on the iPad called Book Creator, by Red Jumper Studio.  I found the resource through Silvia Talisano's blog.  It is one of the easiest, most user friendly book creation apps I have found.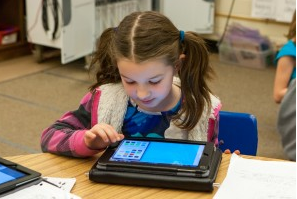 We discussed ways to rotate students through stations all tying into their animal study and divided the class into four groups of seven, which would rotate through stations: animal art, partner reading, research, and writing on the iPads.
The students learned how to use the iPad with ease.  Once I showed them how to use the app and insert pictures, they took off.  Students now know how to write text, change the font size and color, select a page background color, insert an image, and even record their voice.  It was fun to see Mrs. Patterson gain confidence as well.  As she saw how easily the students learned to use the iPad and the app she began to feel confident herself in using it.  Eventually, she did not need me to be there as often or for as long. 
Amy Page is a K-5 library media specialist with a passion for reading, learning, technology, travel, and adventure.  You can connect with her by leaving a comment below.  Check out her library blog.